EASY LOCK™ SYSTEM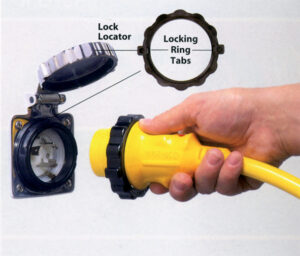 Marinco's exclusive Easy Lock System has been designed to make hook-up quick and easy. Just connect the cordset (with an Easy Lock locking ring installed) to the inlet and turn the locking ring less than a quarter turn.
The tabs on the locking ring lock into the inlet for a positive watertight hook-up while eliminating any chance of cross threading. The locking ring features lock locators positioned at 180° to improve finger grip during attachment.
Easy Lock inlets have a threaded boss that will accept threaded cordsets as well.
SOFT TOUCH™ CAP DESIGN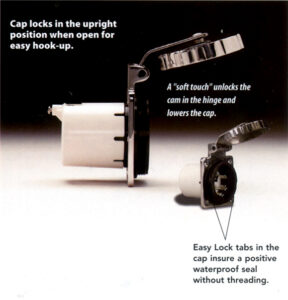 MARINCO inlets feature the Soft Touch cap design. The Soft Touch hinge is designed with a special cam feature that allows it to stay "locked" open in the upright position during hook-up. A "soft touvh" unloks it for closing.
POWERCORD PLUS® CORDSET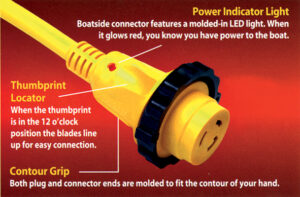 The PowerCord PLUS® has features you will not find on other cordsets.
Power Indicator light
LED Power indicator light – lets you know if you have power
Comfort Grip with Thumbprint Locator
Moulded to fit the contour of your hand. Thumbprint Locator lines up the locking blades for quick and easy connections.
– LED Power Indicator Light
– Contour Grip Ends
– Thumbprint Locator
– Super Flexible 10/3 Cable
– Easy LockTM System
– High Quality Marine Grade Construction
– Watertight Molded Plug & Connectors
– Includes threaded ring and Easy Lock ring
– All PowerCord PLUS cords assembled complete with
Watertight Connector Cap to ensure CE compliance
– CE marked